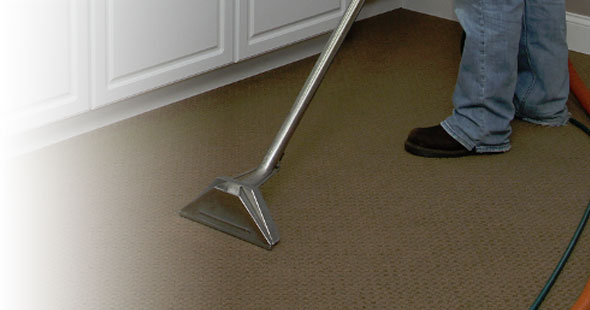 Carpet is installed in homes and offices because it is an attractive, sound-reducing floor covering. It is also subject to soiling from foot traffic and fiber damage from tracked-in grit. As time passes, what was once pleasant to look at, becomes an eyesore and sends out a negative message to all who see it. If you have purchased carpet to enhance the enjoyment of the home or safety of the workplace, the longer the carpet lasts in good condition, the greater the return on your investment.
That is why regular carpet maintenance is a worthwhile expense. It makes a major investment last far longer and keeps the flooring attractive throughout its use. We can, and often do, restore a carpet's appearance after years of neglect, but we certainly can't recommend that approach. Regular maintenance cleaning is the better way to go.
Carpet cleaning is not mysterious, but it does involve certain steps that must be followed to produce a truly clean, fresh, residue-free carpet. Those steps include:

1) Effective dry vacuuming.
2) Pretreatment of traffic lanes and spots.
3) Shampooing with agitation to loosen embedded soils.
4) Thorough rinsing for removal of detergents and soil.
5) High volume air flow through the wand to limit moisture retention and reduce drying time.
6) Pile or nap setting to accelerate drying.
It is tempting to skip some of these steps in order to reduce the time on the job and give a more attractive price to the client, but it is not wise to do so. Skipping what is needed will lead to poor cleaning and we haven't built a reputation for cleaning excellence because we do that.
Our carpet cleaning technicians follow IICRC standards for carpet and rug cleaning. We can use various methods including power pile lifting, bonnet maintenance, and truck-mount-provided hot water rinse extraction. Our methods are safe, effective, and successful at restoring even seriously soiled carpets.
So, if you need carpet restored, let us work on it before you send it to the landfill. If it is just soil and not fiber damage, we may be able to get you a few more years out of your investment.
If it is just starting to look unsightly, let us give you an estimate for a basic cleaning or even a scheduled maintenance program.
Our number is 315-782-4437
If you want more information on Commercial Carpet please go to: www.carpet-rug.org
Did You Know?
Carpeting offers a seldom thought-of benefit to the occupants of any building where it is installed. Due to its three-dimensional nature (it has depth!) the fibers can attract and hold all manner of fine, air-borne materials, such as dust. This effectively removes these things from the indoor air and helps control asthma and other breathing difficulties.
However, carpet can only hold so much contaminant materials before it reaches its capacity and needs to be "unloaded". Daily or, at least, weekly vacuuming does this, and every so often professional cleaning is needed to remove the "sticky" stuff that clings to carpet fibers and holds soils in place, reducing the filtering capability of the surface.
View carpet as you would a furnace filter. Keep a clean one in place!