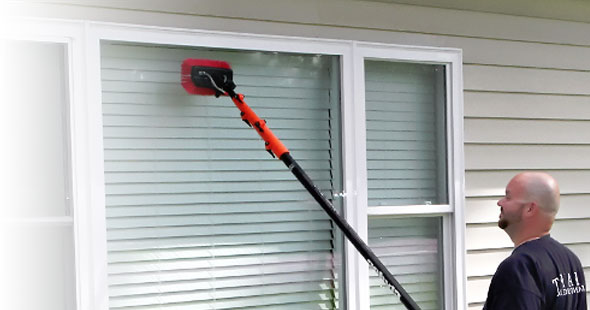 Clean windows help make a home feel bright and cheerful.
Don't wait, contact us today! 315-782-4437
Homes, too, benefit for clean, clear windows inviting the outdoors into the structure.
Reducing window washing frequencies can be a money saver, but allowing heavy build-up on either exterior or interior surfaces can lead to more restoration expense than savings. Not to mention the poor impression it gives to your customers, clients, and friends.
We use a streak-free, water-fed pole system to reach second story installations safely. No ladders! Washing the large glass and the coated wall panels now so widely used is quick and easy with this system.
Ground-level glass is easily and quickly done with strip washers and squeegees and, when clean, enhances your image at minimum cost. If you are in retail and depending on displays in your windows to attract business, window glass maintenance is a must. Even if you want just to watch the birds at the feeder during the winter months, why not do it through clean glass?
A phone call to 782-4437 today will get you a cost estimate for keeping your windows clear of things the birds leave you in return for your generosity.